Surviving Winter in Spain!

Spanish winter is fast approaching, and the best way to come to terms with the slight drop in weather is to embrace it! It may be inevitable, yes, but knowing how to do winter in Spain the right way is sure to yield more excitement than you think. From holidays to festivals, to sports, vacation spots and more, don't miss our best tips for braving the cold season in style!
Seasonal Traditions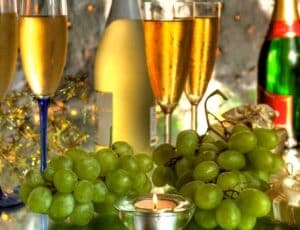 Spanish culture invites traditions that may seem a little strange to non-locals; for example the New Year, known as nochevieja is celebrated by eating exactly 12 grapes! Also, Christmas Eve and Christmas Day are spent with good food and company, however it isn't until the night of January 5th when Spanish children receive their presents to be opened the following morning. January 6th is called Día de los Reyes Magos, the day when the 3 kings arrived in Bethlehem, and is a public holiday met, understandably, with a ton of built-up anticipation and excitement.
Island Escape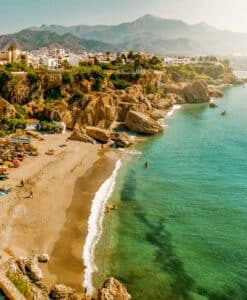 Not a winter person? No worries.. Believe it or not, some of Spain's most prime vacation hotspots remain open into the colder months and are definitely still worth visiting at this time of year! For example, Costa del Sol, located along Málaga's coastline. Situated along Malaga's coastline is Costa del Sol, whose name is very fitting considering the area receives almost 325 days of sunshine per year! Although the water may not be warm enough for swimming, temperatures average around 70 degrees through the cold months, making perfect exploring weather! Discovering the quaint whitewashed streets, visiting the caves, and sunbathing are all great ways to get rid of your winter blues! Diverse and rich in culture, the area is also pretty famous for its striking Roman and Moorish architecture. For those who like to do more than just sightsee, all you active people out there can choose from a bunch of stunning golf courses! Plus, Costa del Sol is sure to be less populated (and less touristy) during this time of year, so you can revel in the peace and relax in a more authentic, Spanish way of life.
Ski Resort Getaway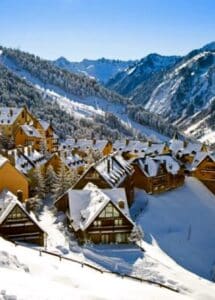 In general, people may not really think of Spain when planning a skiing trip, but with 34 resorts and the 2nd most mountainous terrain in Europe, the country as a whole is actually pretty ideal for the sport! Mild temperatures and potent sunshine make for perfect skiing weather, which is a trait unique to Spain's year-round climate. Tucked away in the heart of the Pyrenees Mountains, beginners and professionals alike will fall in love with the Baqueira-Beret resort (Aran Valley and Àneu Valley Lleida, Spain). The area has a great track record when it comes to snowfall and is frequented each year by both new and returning skiers, who help to give it such a great reputation. This magical resort offers an extensive ski zone with 99 trails to choose from based on difficulty, and although it specializes in skiing and snowboarding, you can also enjoy hiking, rock climbing, and kayaking. Surrounded by hotels and apartment rentals with ice skating rinks, heated pools, café's, restaurants and more, Baqueira-Beret makes for a solid weekend trip or week-long vacation getaway.
Seasonal Spanish Drinks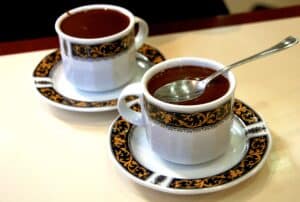 Crema de orujo is, essentially, the Spanish version (aka stronger yet smoother version) of Bailey's. Originating in Galicia, the liquor is made from the leftovers of pressing grapes. The combination of a 50% alcohol content and the mix of holiday flavors such as cream, coffee, cocoa and caramel is sure to keep you warm for hours at a time! Look out for the brands such as Sierra del Oso or Ruavieja and try out this deliciously smooth brandy for yourself! Equally strong in flavour but completely free of alcohol is the Spanish version of hot chocolate! This is popular all year round, but during the winter season it's more common for families to head out to the markets and have a cup of coco. So what's so special? Chocolate caliente is a thick, rich drink that can almost be eaten with a spoon! It's the same stuff often paired with churros – another typical snack that is great for chilly winter days!
Festivals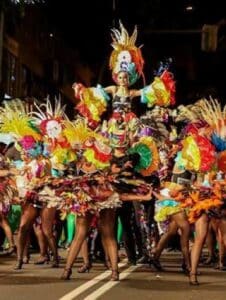 Celebrating the end of the winter months are the Carnivals of Santa Cruz de Tenerife and Cádiz. Capital city Tenerife throws a huge week-long Brazilian style festival and attracts partygoers worldwide looking to completely let loose through the early hours of the morning. For months participators prepare huge, elaborate floats resembling universal themes such as political figures, that are often parodied and made for everyone to enjoy. Each year the carnival invites a new theme, which will be "Caribbean" in 2017. Come jam out with tons of street bands and people dressed in gorgeous, colorful costumes, and don't miss the Carnival Queen selection, in which the most beautiful candidate is crowned queen (the event is also broadcasted on TV as of late!). In south Spain, Cádiz throws its own festival, beginning with Erizada, or sea urchin- (yes this is really the mascot!) inspired celebrations and feasts. A highlight is definitely the music competition, in which local bands and music groups parade around the streets showing off their talent and sparking an eruption of cheering and dancing that lasts until dawn. Don't miss out on these incredibly anticipated, well-prepared, and even envied Spanish festivals, especially if you're down to party with a super energetic international crowd.
– Marisa